Capturing the Majesty of the Bald Eagle
LIVE Bald Eagle Cams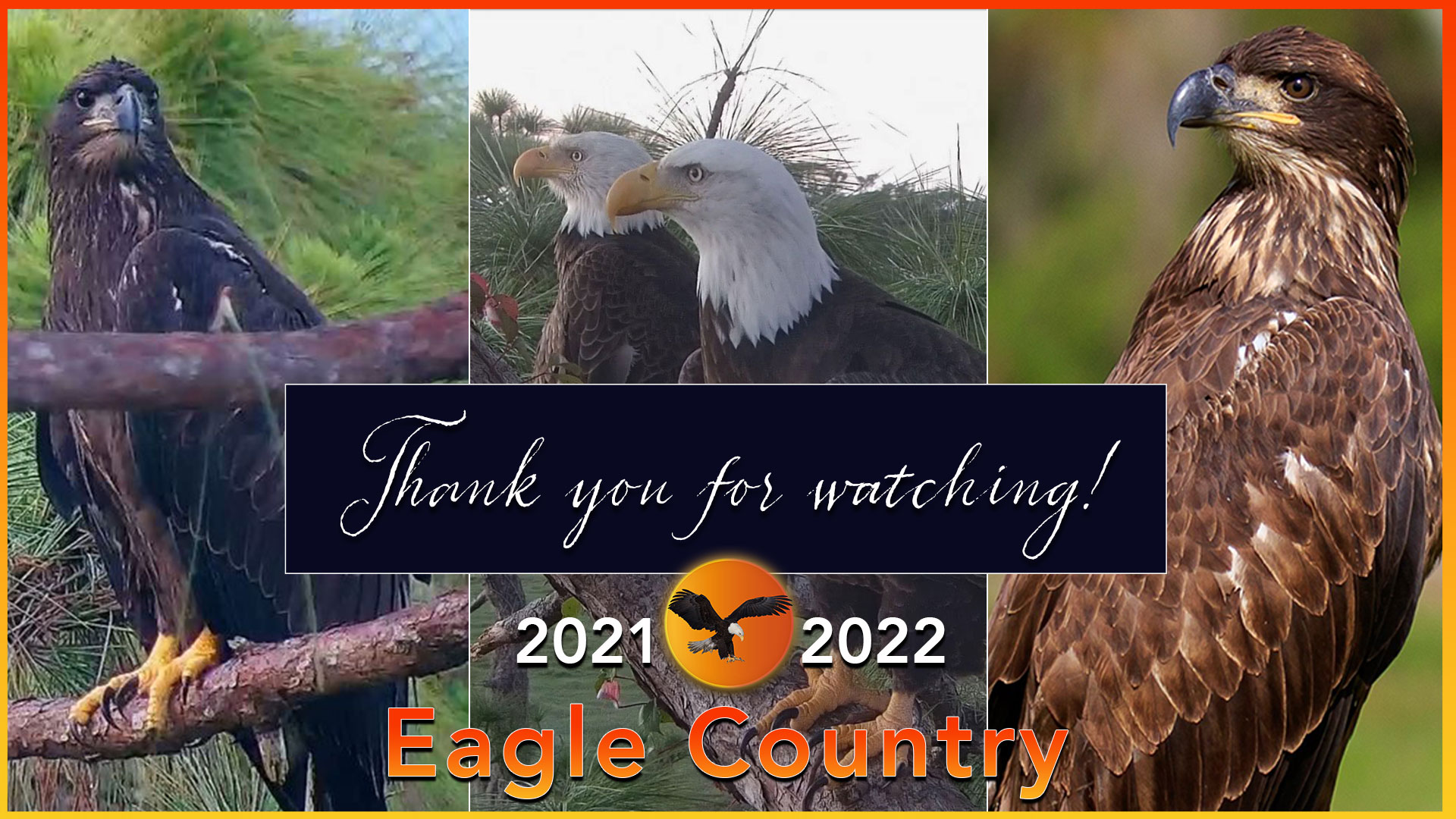 Thank you for watching!
We have been thrilled with how the season progressed with Abby, Blaze, Fern & Thunder. It was great to see Abby & Blaze successfully rear Fern & Thunder to fledging and beyond!
We will be closing EC for the season this evening (7.1.22) as it appears that Fern & Thunder have made their flight out into their own adventures.
We want to thank you all so much for viewing, your kinds words, your support and for being Friends of EC! Enjoy your summer!
Fern: 1.5.22 | Hatch 2.11.22 | Fledge: 5.3.22
Thunder: 1.9.22 | Hatch 2.14.22 | Fledge: 5.5.22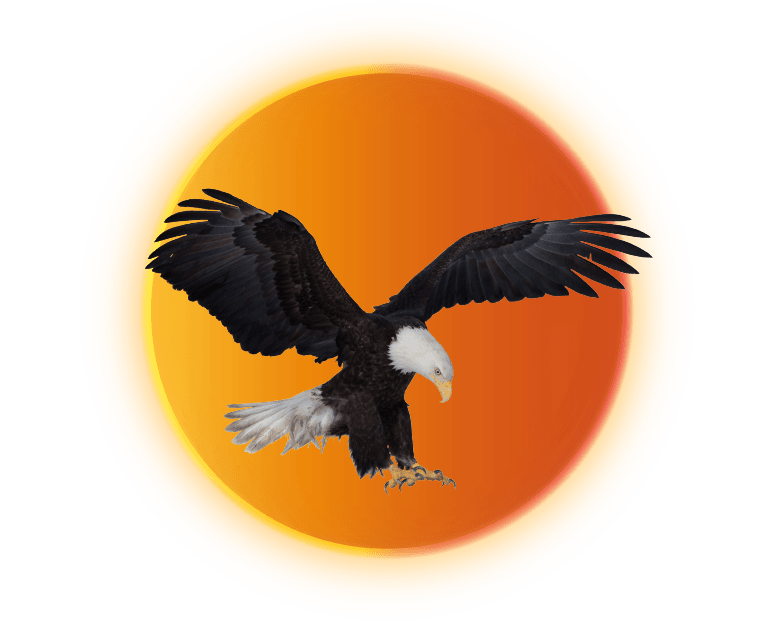 We are excited to begin season #4 here at Eagle Country! As most of you are aware, our last season brought many surprising turns of events. Most significant was that Nic and Vic, our resident eagles, did not return to the nest. We were all surprised and we miss them with you! While we have no surety of their fate or whereabouts, we simply trust that they are alive and well on their adventures elsewhere.
However, what did happen last season was that there were many visiting eagles as well as some territorial disputes. After extended and numerous visitations by not only mature eagles but also juveniles, we even started calling last season our "EC Bed and Breakfast Season!" However, after several weeks, it became clear that there would not be a settled pair.
We are thrilled that Abby chose Blaze and most importantly, they have two offspring this season, Fetn & Thunder!
Above all, we are glad you are here! The coffee has not stopped perking here at EC, so pull up a chair, grab your cup and enjoy with us!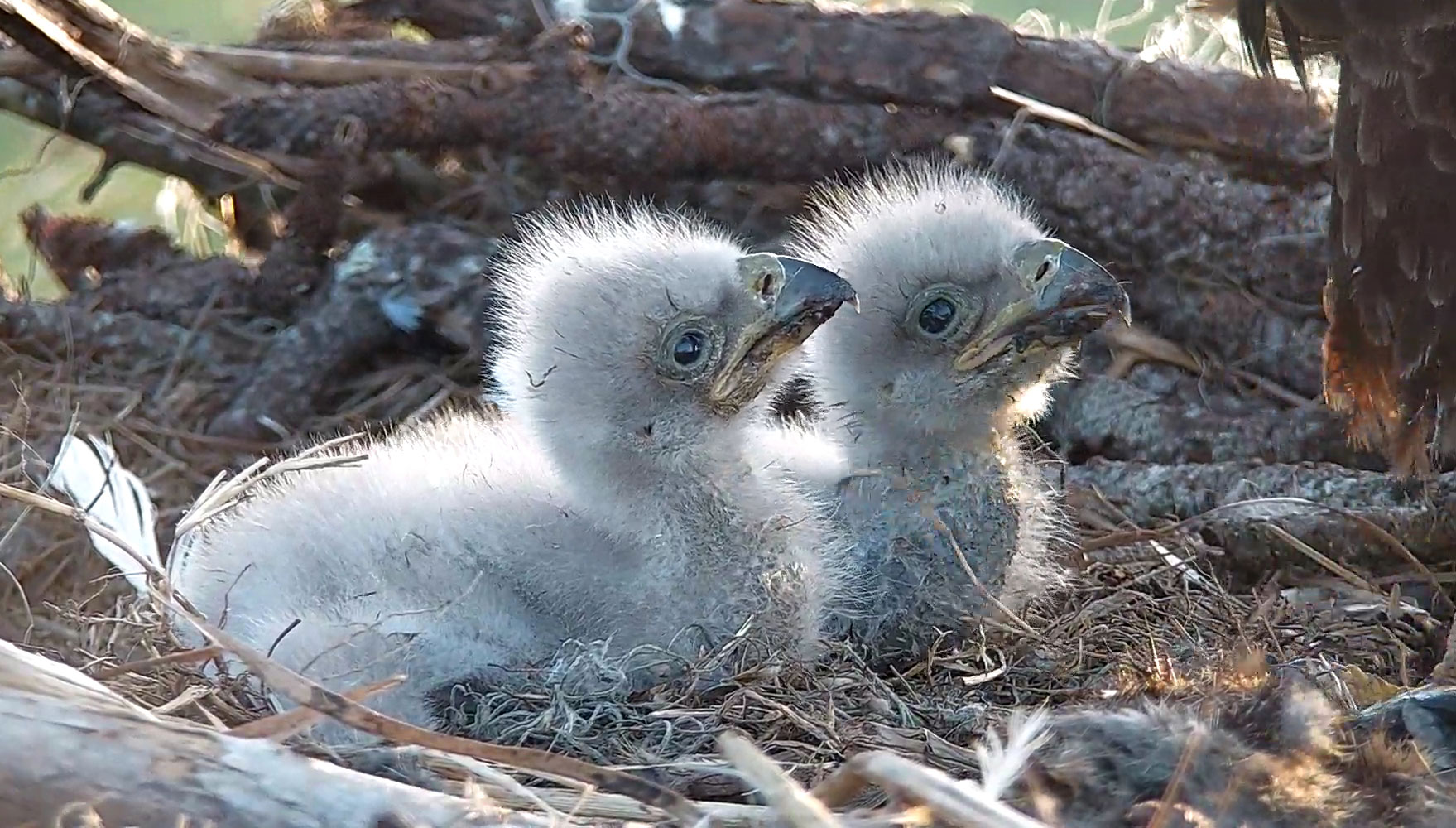 Hickory & Mossy | Season #2
Eagle Country Weather
86°
Partly Cloudy
6:57 am8:13 pm EDT
Feels like: 93°F
Wind: 12mph ESE
Humidity: 68%
Pressure: 30.09"Hg
UV index: 8
91/75°F
93/77°F
93/77°F
91/77°F
90/75°F

FAQs:
We receive many questions about the eagles, the history of the nest and on-camera sights and sounds. Many of these questions we have tried to answer below.
What happened to Victoria & Nicholas?
eaglecountry4031
2021-10-21T15:34:02+05:00
The 2020-2021 season brought many unexpected turns of events. We believe we had a sighting of Nicholas prior to cams going live, but we are not certain. We believe we may have seen Victoria early on, but again, we are not certain. All we do know is that they did not return for the nesting season. Although we don't know their fate or whereabouts, we like to think they are simply enjoying their adventures elsewhere!
If you were fond of Vic & Nic and would like to revisit their story, you can read about and view them here: Vic & Nic
SUPPORT EAGLE COUNTRY!
click below
OFFICIAL Eagle Country Gear
Find a variety of gear from t-shirts to mousepads! Support Victoria & Nicholas and help spread the word of Eagle Country!

Annual Eagle Country Stats
YEAR
Eagle Pair
Eggs
Date Eggs Laid
Date Of Hatch
Fledge
2021-2022
Abby & Blaze
Two Eggs
1st: 1-5-22
2nd: 1-9-22
Fern: 2-11-22
Thunder: 2-14-22
Fern: 5-3-22
Thunder: 5-5-22
2020-2021
Abby/Many Suitors
*
*
*
*
2019-2020
Victoria & Nicholas
Two Eggs
1st: 12-28-19
2nd: 12-31-19
Hickory: 2-3-20
Mossy: 2-5-20
Hickory: 5-1-20
Mossy: 5-7-20
2018-2019
Victoria & Nicholas
Two Eggs
1st: 1-28-19
2nd: 1-31-19
Dandy: 3-6-19
Spur: 3-8-19
2 Successful Fledges